Content Language Setting
The Content Language Setting is use to select which languages you would like to see in your News Feeds.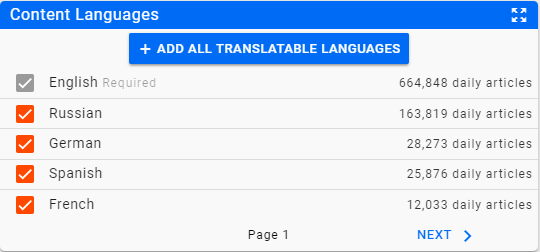 More than one language can be selected along with the default language of English. Click on NEXT > and < PREV to page through the available languages. If you are a Premium Translation user, you can click on + ADD ALL TRANSLATABLE LANGUAGES button to add all of the languages that FTS Apollo™ is able to natively translate.
Current Available Languages - Bold are Translatable using Premium Translation
Arabic
Belarusian
Bulgarian
Chinese
Croatian
Czech
Danish
Dutch
English
Estonian
Finnish
French
Georgian
German
Greek
Hebrew
Hindi
Hungarian
Icelandic
Indonesian
Irish
Italian
Japanese
Kazakh
Korean
Latvian
Lithuanian
Macedonian
Maltese
Malay
Mongolian
Norwegian
Persian
Polish
Portuguese
Romanian
Russian
Serbian
Slovak
Slovenian
Spanish
Swedish
Thai
Turkish
Turkmen
Ukrainian
Urdu
Uzbek
Vietnamese
---
Help Home FTS Apollo™ Help RegLens® Help
---
Last update:
November 22, 2021