Trending News Widget
The Trending News Widget will display a list of Article Clusters sorted by the most syndicated articles published within the last two hours available within a Channel or for an Entity. This is very useful to see a list of the most widley published articles which gives you a quick list of top stories being published for the Channel or Entity. You can also add an ALL tab to the widget when it is used in a Dashboard(../dashboard/dashboard.md) which will give you the top syndicated articles overall.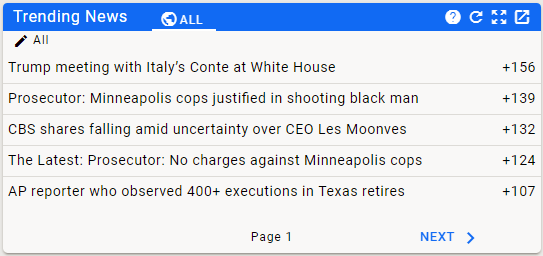 Widget Navigation
Clicking on the Article headline will give take you to a representative article from the cluster.
Click on the number of articles on the right of the Article Headline to bring up the Article Cluster.
Trending News Versions
---
Help Home FTS Apollo™ Help RegLens® Help
---
Last update:
October 5, 2021