Search Bar

The main search bar can be used to find anything within Apollo. The simplest way to search is to just start typing into the search area what you are trying to find. FTS Apollo™ will dynamically begin returning results as you type. If you see what you want, just click on it and you will be taken to the associated entity News Feed.
Quick Tip - Type a ticker symbol for a public company or preceed the search term with a Quote (") to force a text search. Once the full text information is entered, type a second Quote (") at the end. For more complicated text searching you can use the Simple Query String Syntax directly from the search box.
You can also use the drop down menu to the left of the search box to limit your search results to a specific Entity Type or a Text Search when you search. Click on the drop down menu and select the entity type you wish to search for and then type in the search term.
Once the search results start returning, the most likely target will include a menu consisting of the functions available for that Entity Type. As an example, the menu for Apple Inc. is here:

Clicking on the menu item contained in the result will take you to that function for the entity listed, in this case, Apple Inc. In addition, you can click on the Ticker Symbol in the results display and you will be taken to the quote page for that security.
If the resolution contains more than one likely result, the first one will contain the menu, and the rest will be listed and available for selection as illustrated here: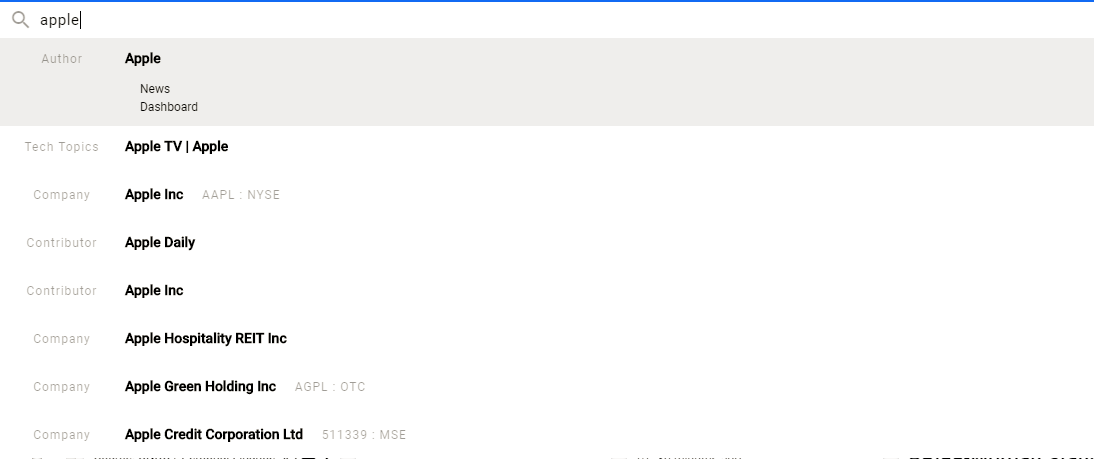 Clicking on one of the entities will result in a News Feed for that entity.
---
---
Last update:
November 22, 2021